Pet Transport Services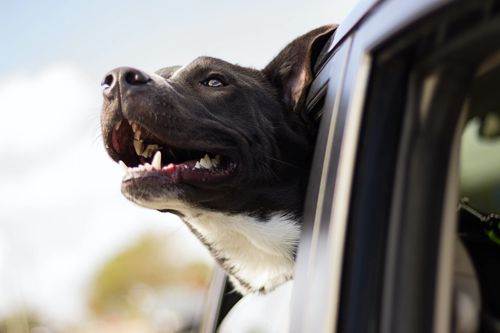 Life can be complicated enough without having to figure out how to transport your pet across town or cross country! Rates are for local trips only. We're willing to travel up to 200 miles and will charge per mile for these types of trips.
Tails On Time can safely and securely transport your pet to and from:
Your vet
Your vet will need to have your card on file and be contacted to let them know we'll be bringing your pet in.
Groomer
We will stay and wait for your pet while they get their hair and nails trimmed.
Trainer
Our sitters will make sure your pet gets to their trainer on time. We will also eventually offer training services that covers basic training.
Boarding facility safely
Even if you don't want us to pet sit for your pets; we can transport them to the boarding facility of your choice.
One-way or round trip
Basic rates apply for local trips, while trips more than 30 miles are subject to additional fees.
Pet Transport Rates
$20 - One-way trip
$40 - Round trip
+$8 per 15 minutes of wait time beyond agreement
YOUR PET is too important to trust to ANYONE who simply claims to be a pet taxi service. Get a pet transport service who is certified, bonded and insured! You need Amy from Tails On Pets who will transport your beloved pet, while taking whatever measures are necessary to ensure a stress-free experience and their safe and efficient delivery.
Register or Book Your Next Pet Transport
Existing customers of Tails On Time can log into their account using their phone or computer, where you can schedule your next pet transport, pet walk, pet sitting or house sitting. By scheduling directly, you can quickly and easily verify we're available and sign up for open time slots. Click here to schedule pet transport
New Customers must register with our service to provide contact information and communication preferences (i.e., best times and methods to reach you), let us know which service(s) you're interested in and the number and type(s) of pets involved, along with any other special needs or requirements for your pet(s). Once you've submitted your registration info, we'll contact you ASAP, or when indicated, so we can make sure you, your pet and your pet care professional are compatible and "on the same page".
If you're in a hurry, you can call us at (919) 727-7333, email us from our Contact Page or text our office using the Text Us link below to setup a quick consultation and the pet care service you're looking for. Click here to register